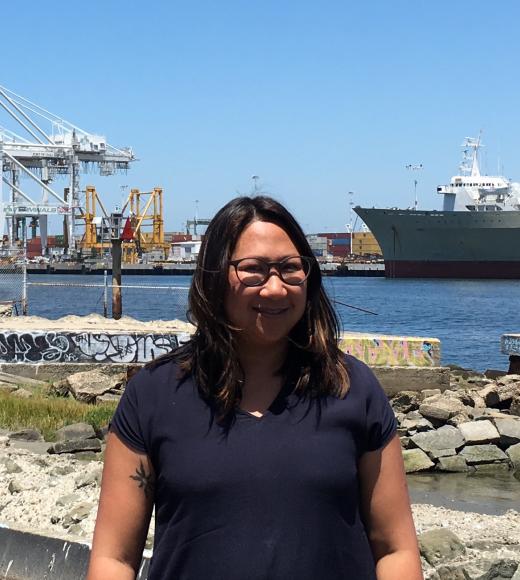 Position Title

Associate Professor; Program Director for Landscape Architecture + Environmental Design
Landscape Architecture + Environmental Design
Bio
Masters
Masters Landscape Architecture. Harvard School of Design, Cambridge, Massachusetts, 2005.
Bachelors
Bachelors in Art in Architecture. Washington University School of Architecture, St. Louis, Missouri, 2001.
Claire Napawan is a landscape architect, urban designer, and academic who has designed and studied urban environments throughout the world for over ten years. Her research focuses on urban public open spaces and their contribution to urban resilience. She believes urban resilience requires community participation, and that designers and decision makers need to explore new techniques for integrating urban communities with their built environments. This includes a particular focus on disadvantaged and vulnerable communities, such as urban youth. Examples of her design and research include: Smart Sidewalks, the winning proposal for Reinventing Payphones in New York City, which seeks to address the digital divide and improve urban environmental resilience;  PoroCity, a design proposal that integrates green infrastructure techniques with social media to create digital and physical networks for urban resilience; #SFOpenCity, a public exhibition that invites local community-members to interrogate their existing urban landscapes through popular social media outlets; Our Changing Climate, a research and design project that empowers Oakland youth to develop physical and digital exhibitions to document and share their experiences of climate change; and FOGWASTE, a public art installation that seeks to bring greater awareness of San Jose's vital infrastructures to community members and encourage greater urban environmental stewardship. These projects represent award-wining proposals, commissioned by local municipalities, and/or exhibited at notable venues throughout the U.S. In 2015 Professor Napawan was awarded the top honor of Vanguard by Next City (top '40 under 40' for emerging urbanists), a non-profit organization tasked with promoting the design and planning of sustainable cities and funded by the Ford Foundation, The Rockefeller Foundation, Surdna Foundation, The Knight Foundation, The John D. and Catherine T. MacArthur Foundation, and The Kresge Foundation.
Follow her on Twitter or Instagram at @sf_opencity.
Learn more about her collaborative design work at www.grouprojects.com
Learn more about her contribution to UC ANR's efforts in urban agriculture at http://ucanr.edu/sites/UrbanAg/